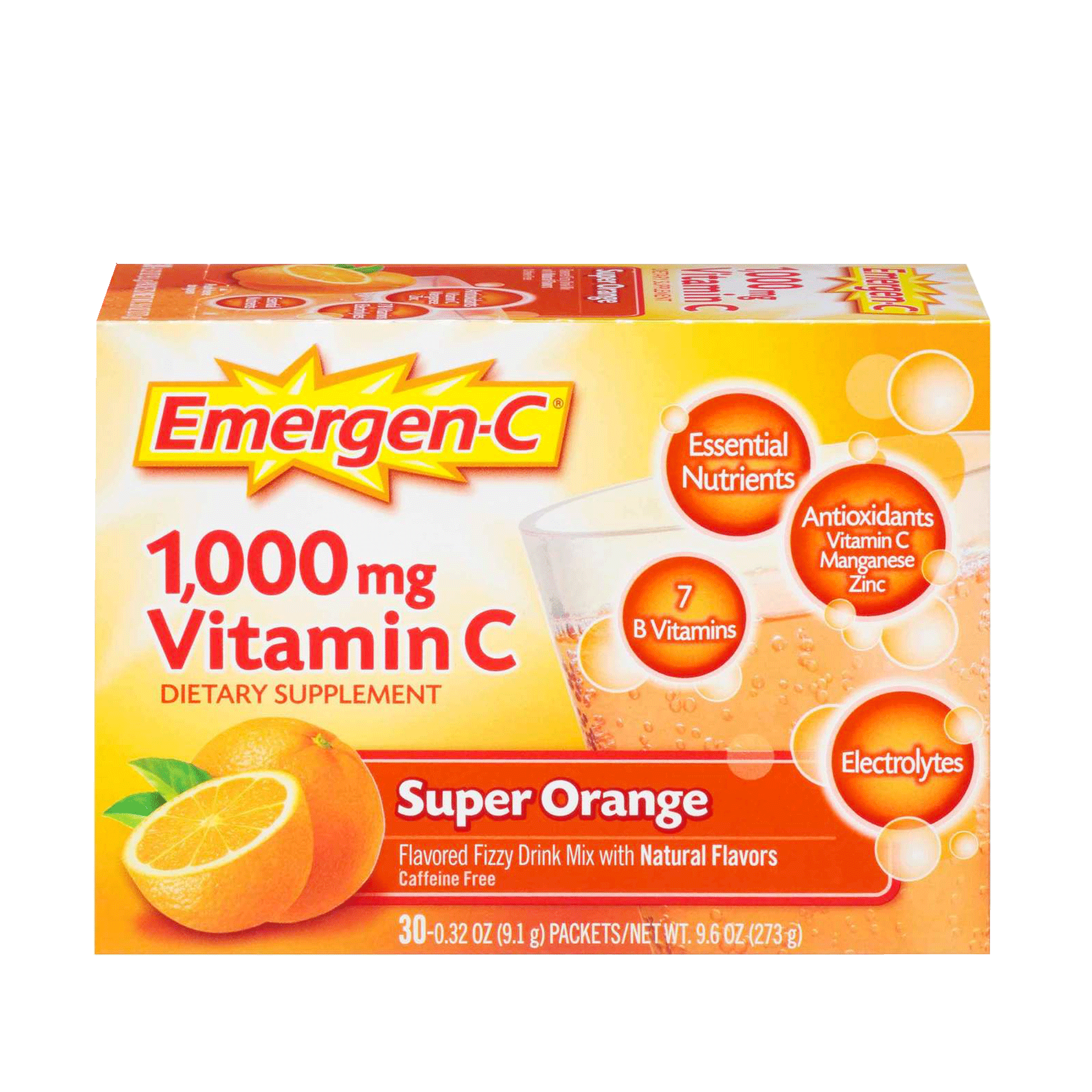 即沖維他命C汽泡飲品 Emergen-C® Super orange
香橙味

營養與美味完美結合的維他命C即沖汽泡飲品,含維他命B群及28種礦物質電解質。
非酸性配方含1000毫克維他命C、豐富維他命B群及28種礦物質電解質,為使用者迅速補充不同營養素、抗氧化物的需要。有助促進免疫力、舒緩一般壓力及維持體力。適用於運動前後或日常飲用,於午餐後飲可以有助回復精力。

天然果味,每包含6克糖。不含麥麩,奶類和黃豆 , 亦不含咖啡因成份, 適合素食者及一般人仕使用 。

如欲尋找低糖綜合維他命飲品即沖劑,請查看Ola Loa 綜合維他命即沖飲品系列。
Directions: Ages 14 and up, on (1) packet daily. Empty contents into a glass, add 5-6 oz of water, stir. For lighter flavor, mix with more water. Do not exceed suggested use. If you are pregnant, nursing, or taking medication, consult your doctor before use.
Serving Size 1 Packet (9.1g)
 
Amount Per Serving
% Daily Value
/Amount Per Serving/ % Daily Value
Calories
35
 
Total Carbohydrate
8g
3%†
Total Sugars
6g
*
Includes 6 g Added Sugars
 
12%†
Vitamin C(as ascorbic acid, zinc ascorbate)
1,000 mg
1,111%
Thiamin(as thiamine hydrochloride)(Vit.B1)
0.36mg
30%
Riboflavin(as riboflavin-5' phosphate(vit.B2)
0.39mg
30%
Niacin(Vit.B3)
4mg
25%
Vitamin B6(as pyridoxine hydrochloride)
10mg
588%
Folate(Vit.B9)
167 mcg DFE (100mcg Folic Acid)
42%
Vitamin B12(as cyanocobalamin)
25mcg
1,042%
Pantothenic Acid(as calcium pantothenate)(Vit. B5)
2.5mg
50%
Calcium(as calcium carbonate, monobasic calcium phosphate, tribasic calcium phosphate, calcium pantothenate)‡
50mg
4%
Phosphorus(as monobasic potassium phosphate,monobasic calcium phosphate, monobasic sodium phosphate, tribasic calcium phosphate)‡
53mg
13%
Magnesium (as magnesium hydroxide, magnesium carbonate)‡
53mg
13%
Zinc(as zinc ascorbate)
2mg
18%
Manganese(as manganese gluconate)
0.5mg
22%
Chromium(as chromium picolinate)
10mcg
29%
Sodium(as sodium bicarbonate, monobasic sodium phosphate)‡
65mg
3%
Potassium(as potassium bicarbonate, potassium carbonate, monobasic potassium phosphate)‡
200mg
4%
†Percent Daily Values are based on a 2,000 calorie diet.
*Daily Value not established.
OTHER: Fructose, Maltodextrin, Citric Acid, Malic Acid.
WARN: Contains <2% of: Acacia, Beta- Carotene(color), Glycine, L-As partic Acid, Natural Flavors, Orange Juice Contentrate( Color and Flavor), Orange Oil, Silicon Dioxide, Tartaric Acid, Tocopherols(to preserve freshness).
Caffeine Free - Gluten Free - Vegetarian - Natural Sweeteners & Flavors -
WARN: Keep out of reach of children.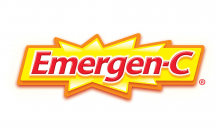 Out to prove that you don't have to choose between flavour, fizz and nutrition, Alacer Corp. created Emergen-C.
A simple vitamin C supplement, with a burst of B vitamins and added minerals to support your health.