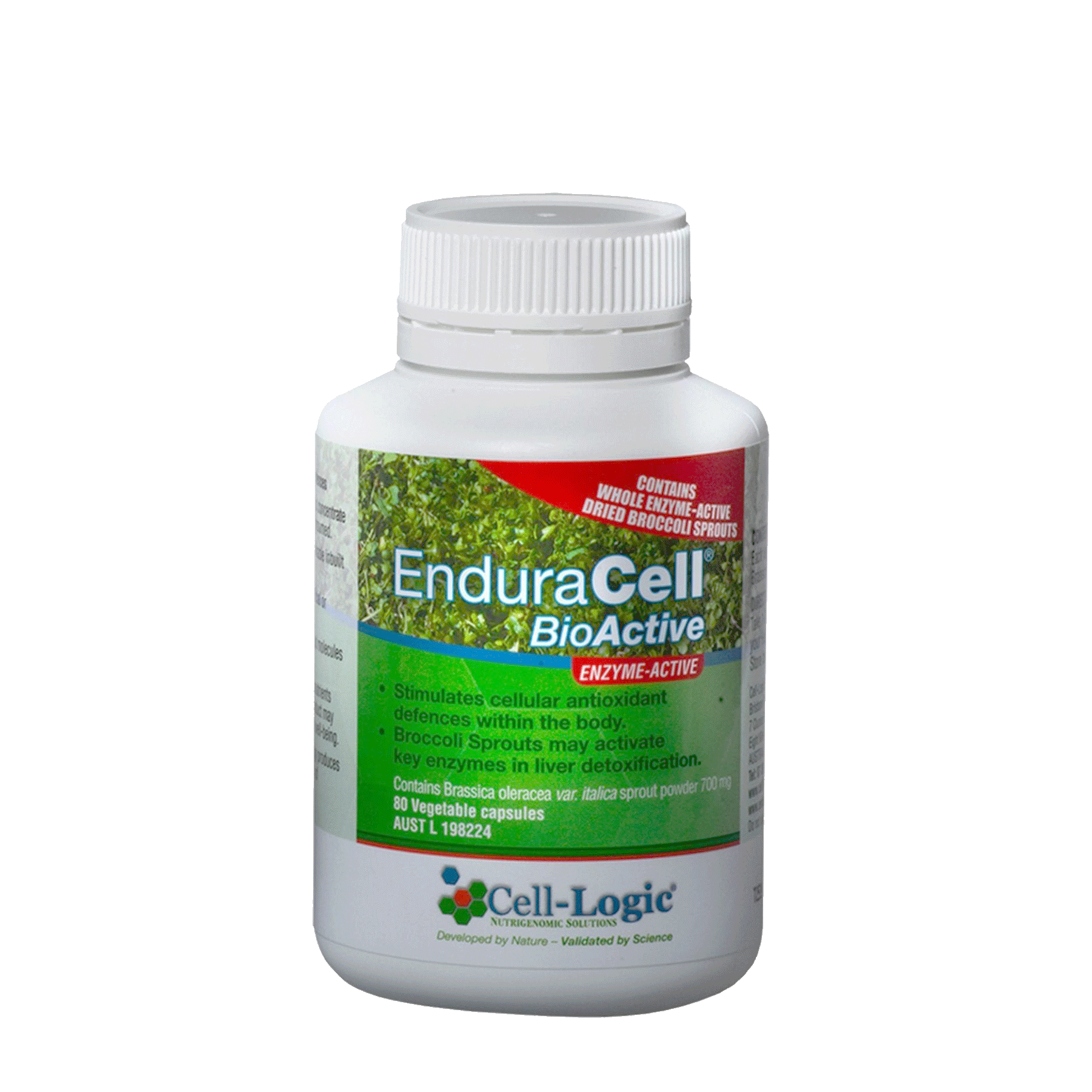 EnduraCell Bioactive®

Enduracell Bioactive harnesses the power of pure broccoli sprouts in order to raise antioxidant levels, reduce oxidative stress and enhance your overall wellbeing.
When sprouting, broccoli contains 20-50 times more phytonutrients than the mature broccoli vegetable. Enduracell Bioactive harnesses this power to raise antioxidant levels, reduce oxidative stress, protect cells and enhance your overall wellbeing.
Enduracell Bioactive is rich in sulforaphane, which stimulates production of glutathione, the master detoxifier and antioxidant. Studies have shown that broccoli can help flush out pollutants that we're exposed to daily. It can also help activate key enzymes needed for liver detoxification.
This supplement may assist in stabilising cholesterol levels.*
Made for those already taking multivitamins, this formula does not contain selenium.
Cell-logic grow their own sprouts hydroganically, in a unique and specially cultivated environment in order to maximise bioactivity, potency and effects. Enduracell Bioactive does not contain goitrogens, or significant levels of vitamin K.
*This product is not registered under the Pharmacy and Poisons Ordinance or the Chinese Medicine Ordinance. Any claim made for it has not been subject to evaluation for such registration. This product is not intended to diagnose, treat or prevent any disease.
Each Size '00' EnduraCell® BioActive capsule contains:
EnduraCell®: 100% Whole Broccoli Sprout Powder (Brassica oleracea var. italica sprout powder) 700 mg
NOTE: Cell-Logic EnduraCell® is hydroganically grown in a carefully controlled environment to maximise bioactivity. Our hydroganic growing process does not use any herbicides, pesticides or other harmful chemicals. EnduraCell® BioActive is GMO free and does not contain goitrogens or significant levels of Vitamin K.

A pioneer of the nutrigenomic field, Cell-Logic's formulas use evidence-based nutrition to optimise your wellbeing. Their flagship ingredient, EnduraCell, harnesses the detoxifying powers of broccoli sprouts via a manufacturing process unparalleled anywhere else.