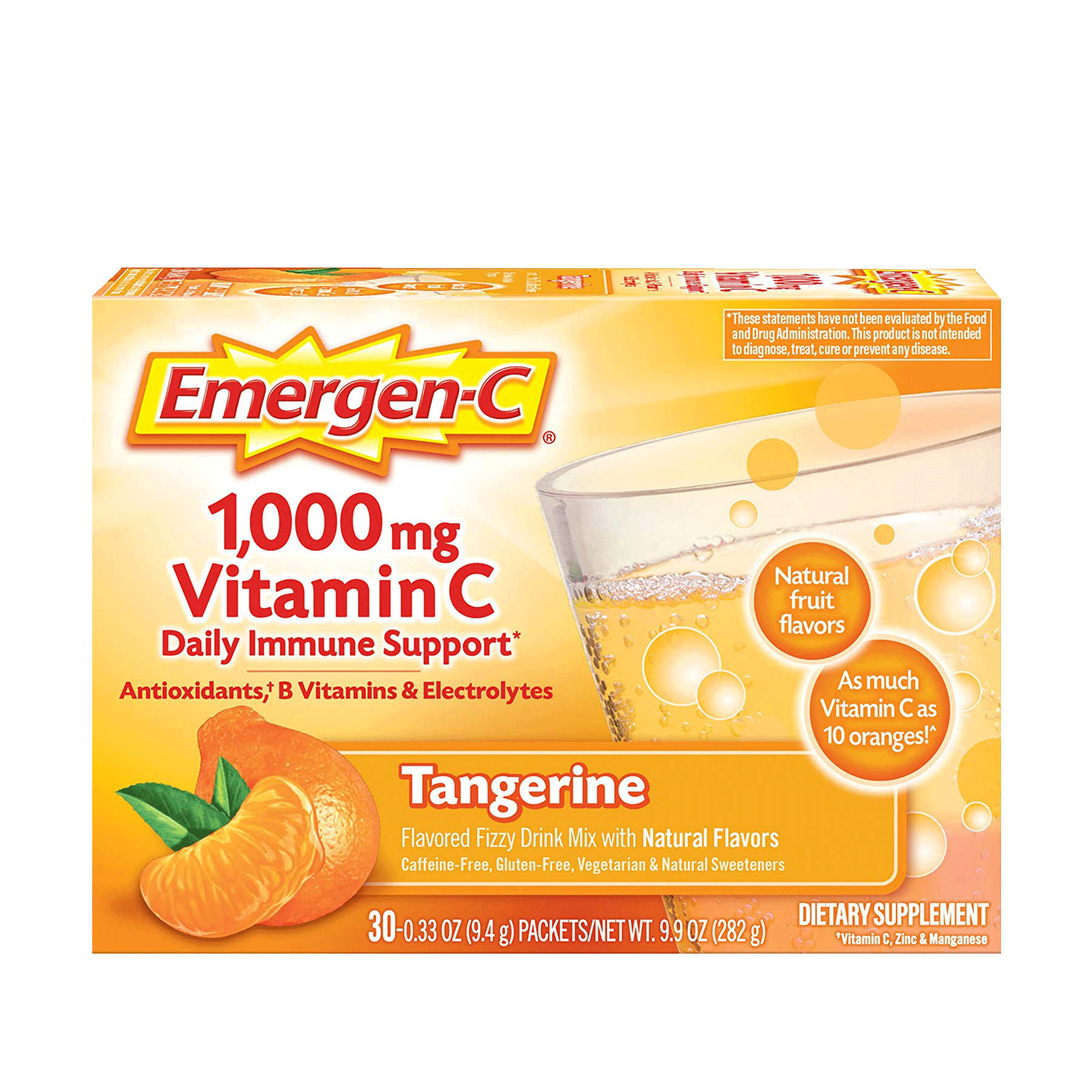 Emergen-C®
| tangerine flavour

Out with the celery juice and in with Emergen-C. This fizzy drink is full of nutritional support and flavour, because who said you can't have both?
Widely used by athletes and people from all walks of life, this popular drink provides antioxidant protection and a burst of energy when you need it most. Perfect for warding off post-lunchtime fatigue.
1000mg of vitamin C, a healthy helping of B vitamins and 28 mineral electrolytes makes this formula the perfect pick-me-up.
Non-acidic, meaning it's gentle on your stomach. For a low-sugar alternative, check out Ola Loa.
Directions: Ages 14 and up, on (1) packet daily. Empty contents into a glass, add 4-6 oz of water, stir. For lighter flavor, mix with more water. Do not exceed suggested use. If you are pregnant, nursing, or taking medication, consult your doctor before use.
Serving Size 1 Packet (9.4g)
 
Amount Per Serving
% Daily Value
Calories
35
 
Total Carbohydrate
8g
3%†
Total Sugars
7g
*
Includes 6 g Added Sugars
 
12%†
Vitamin C(as ascorbic acid, zinc ascorbate)
1,000 mg
1,111%
Thiamin(as thiamine hydrochloride)(Vit.B1)
0.38mg
32%
Riboflavin(as riboflavin-5' phosphate(vit.B2)
0.43mg
33%
Niacin(Vit.B3)
4mg
25%
Vitamin B6(as pyridoxine hydrochloride)
10mg
588%
Folate(Vit.B9)
167 mcg DFE (100mcg Folic Acid)
42%
Vitamin B12(as cyanocobalamin)
25mcg
1,042%
Pantothenic Acid(as calcium pantothenate)(Vit. B5)
2.5mg
50%
Calcium(as calcium carbonate, monobasic calcium phosphate, tribasic calcium phosphate, calcium pantothenate)‡
50mg
4%
Phosphorus(as monobasic potassium phosphate,monobasic calcium phosphate, monobasic sodium phosphate, tribasic calcium phosphate)‡
38mg
3%
Mangnesium (as magnesium hydroxide, magnesium carbonate)‡
60mg
14%
Zinc(as zinc ascorbate)
2mg
18%
Maganese(as maganese gluconate)
0.5mg
22%
Chromium(as chromium picolinate)
10mcg
29%
Sodium(as sodium bicarbonate, monobasic sodium phosphate)‡
65mg
3%
Potassium(as potassium bicarbonate, potassium carbonate, monobasic potassium phosphate)‡
200mg
4%
†Percent Daily Values are based on a 2,000 calorie diet.
*Daily Value not established.
OTHER: Fructose, Sugar, Citric Acid, Tangerine Juice( color and flavor).
WARN: Contains <2% of Beta- Carotene(color), Glycine, L-As partic Acid, Malic Acid, Maltodextrin, Natural Flavors, Silicon Dioxide, Tartaric Acid, Tocopherols(to preserve freshness).
Caffeine Free - Gluten Free - Vegetarian - Natural Sweeteners & Flavors -
WARN: Keep out of reach of children.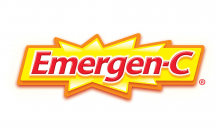 Out to prove that you don't have to choose between flavour, fizz and nutrition, Alacer Corp. created Emergen-C.
A simple vitamin C supplement, with a burst of B vitamins and added minerals to support your health.