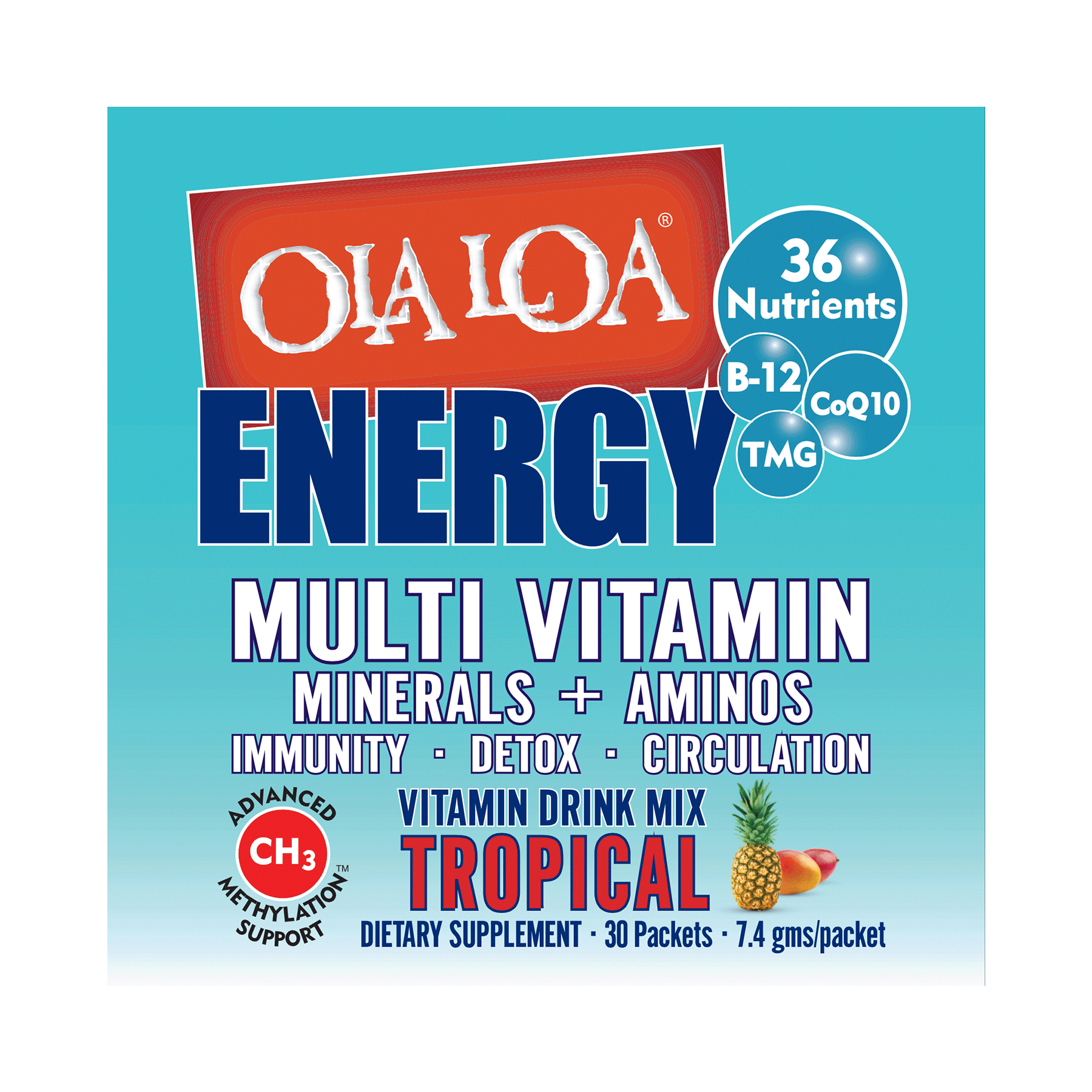 Ola Loa ENERGY
| tropical flavour

A potent multivitamin drink, inspired by advanced nutrition research.
A potent multivitamin drink with added amino acids and minerals, inspired by advanced nutrition research. Ideal for daily detox, antioxidant protection, better energy and endurance.
Enjoy a broad range of support from vitamins A through to K, plus a generous 1000mg dose of vitamin C. Added protection from 40 mineral complexes and 6 different amino acids.
This formula also provides essential support from elusive nutrients which are often hard to obtain, like TMG, NAC and CoQ10. CoQ10 provides cells with a boost of energy and promotes better cardiovascular health.
The addition of mineral electrolytes makes this a perfect post-workout drink.
Directions: Place contents in glass and mix with 4.6 oz.cold water or juice. Add more water for lighter flavor. Adults and children take 1 packet daily or as directed by your health professional.
Serving size 1 Packet
Servings Per Container 30
 
Amount per serving
% Daily Value
Calories
15
 
Total Carbohydrate
2 g
1%
Total Sugars
1 g
**
Includes 1g Added Sugars
 
2%
Vitamin A (as retinol palmitate)
300 mcg
33%
Vitamin C (as ascorbic acid)
1000 mg
1111%
Vitamin D (as cholecalciferol)
25 mcg
125%
Vitamin E (as dl-alpha tocopheryl acetate)
20 mg
133%
Vitamin K (as phylloquinone)
20 mcg
17%
Thiamin (as thiamine hydrochloride)
2 mg
167%
Riboflavin (Vitamin B.)
1.7 mg
131%
Niacin (as niacinamide)
10 mg
63%
Vitamin B0 (as pyridoxine hydrochloride)
10 mg
588%
Folate(as folic acid)

400 mg DFE

(240 mcg folic acid)

100%
Vitamin B.. (as hydroxycobalamin)
100 mcg
4167%
Biotin (as d-biotin)
100 mcg
333%
Pantothenic Acid (as d-calcium pantothenate)
10 mg
200%
Choline (as choline bitartrate)
4.3 mg
1%
Calcium (as calcium carbonate)
29 mg
2%
Iodine (as potassium iodide)
50 mcg
33%
Magnesium (as magnesium carbonate)
25 mg
6%
Zinc(as zinc picolinate)
5mg
45%
Selenium (as sodium selenite)
50 mcg
91%
Copper (as copper gluconate)
0.5 mg
56%
Manganese (as manganese gluconate)
1.5 mg
65%
Chromium (as chromium picolinate)
100 mcg
286%
Molybdenum (as molybdenum glycinate)
75 mcg
167%
Sodium (as sodium bicarbonate)
25 mg
1%
Potassium (as potassium bicarbonate)
200 mg
4%
Glycine (as L-Glycine)
1000 mg
**
TMG-BetaineFolate (as folic acid)
400 mcg
**
Arginine(as L-arginine HCL)
100mg
**
L-Glutamine
100 mg
**
Lysine (as L-lysine HCL)
100 mg
**
Citrus Bioflavinoids Complex
100 mg
**
N-Acetyl L-Cysteine
50 mg
**
Coenzmye Q10
25 mg
**
Bromelain (from pineapple)
10 mg
**
Alpha Lipoic Acid
1 mg
**
Boron (as boron citrate)
1 mg
**
*Percent Daily Values are based on a 2,000 calorie diet.
**Daily Value not established.
OTHER: Fructose, Natural Flavor, Citric Acid Malic Acid, Turmeric (for color), Vegetable Juice Powder from Beets (for color), Stevia Extract, Grape Skin Extract. Keep in a cool, dry place.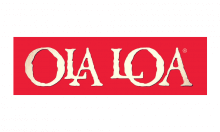 A family-first company with two simple goals. Their first is to deliver advanced formulas, backed by science and modern clinical research into nutrition. The second is to make taking your vitamins easy, and pleasurable.
Ola Loa is a low-sugar multivitamin drink both rich in nutrients and flavour. Taste tested on the best kind of food critics: children.